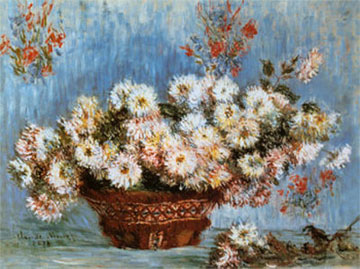 Chrysanthèmes, Claude Monet, 1897-99, private collection.

(Cliquer ici pour la version française).
My mother-in-law says that when she was 7 or 8 (in 1918-1919), she thought that the graveyard of her village was very attractive just after All Saints' Day, when there were lots of flowers on the tombs. But she felt sad for those that remained flowerless. So she would take bunches from the most decorated ones and put them on those that were bare.
You have to imagine a little girl with her navy-blue coat and buttoned boots, her long curly blonde hair under a round hat, going from one tomb to the other to bring justice to the dead.