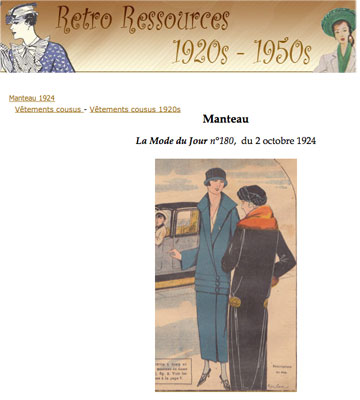 Yesterday, I've discovered a website that brightened my day, and yet it was one of those winter days, grey and cold, when you wonder if the sun has not forgotten us.
This site, retroressources.com, is dedicated to vintage fashion from the 1920s to the 1950s.
Elise is fascinated by this period. She has lots of French and English documentation. You can see (and read) on her website magazine covers, book extracts, photographs of clothes, hats, gloves and handbags.
She even made some models herself.
I was moved by l'Echo de la Mode which my mother used to read when I was a child and I laughed aloud when I saw some of the advertisements.
Apart from the artistic interest of the site, the pages taken from Pigier textbooks (Pigier is a well-known technical school in France) are very interesting : they explain how to draw various patterns, such as all sorts of sleeves
.
Several parts of Elise website are translated into English.
I hope you'll enjoy it and if you do, sign the guestbook !

J