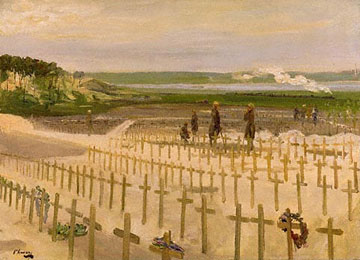 The cemetary, Etaples (Pas-de-Calais), John Lavery, 1919. Imperial War Museum, London

(Cliquer ici pour la version française).
The little girl of All Saints' Day was 7 years old when the Armistice was signed.
Her mother had made a little French flag for her. When the English soldiers walked into the little town where she lived in the north of France, she went with her flag to look at them. They were exhausted and covered with mud, but they were victorious and the population acclaimed them.
In the following days, she and her friends would go to the English encampment, where the soldiers would give them slices of bread, whiter than they had ever seen, and orange marmalade.
Their mothers did not want them to go, but they did all the same.